The Professional School of Psychology has created a distinctive community during more than thirty years of operation. Members of this graduate school community are devoted to the creation of a nurturing learning environment that encourages cooperative learning, emotional growth, self-expression, and personal integrity.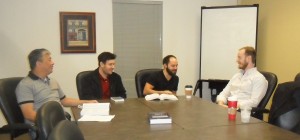 Beyond ensuring that the graduate school experience is satisfying and fulfilling, it is our belief that supportive, participative environments enable our students to achieve both their personal aspirations and academic goals. We believe that this attitude furthers the professional development of our graduates, preparing them for active roles in the enhancement of individual, group and organizational functioning, and ultimately in the reduction of human suffering.
The PSP Community consists not only of the Administrative Staff, Faculty and Students of the school, but also the Alumni/ae who continue to bring honor to our school and community. We invite you to learn more about these members of our community in other sections of this website.