This publishing center was established in 1977. Originally housed in Cardiff-by-the-Sea, California, the press originally focused on postsecondary education, publishing the widely-used and influential Handbook for Faculty Development (in conjunction with the Council for the Advancement of Small Colleges in Washington, D. C.). Since that time, having moved to Sacramento, California, Pacific Soundings Press began to expand its scope, publishing books on the state of health care in North America (Who is Wounding the Healers) and the state of men's lives during their years of Autumn (Men of Autumn).
While Pacific Sounding Press expanded its scope during the 1980s, 1990s and early 2000s, it retained its original commitment to producing books that offered practical advice on the improvement of organizational functioning (whether in postsecondary education or other sectors of society). Books were published on the nature of an appreciative approach to Executive Coaching (Executive Coaching: An Appreciative Approach) and the creation of appreciative organizations (Creating the Appreciative Organization). Another publication directed toward those doing executive coaching provided tools for working with contemporary leaders (Themes and Variations for Postmodern Leaders and Their Coaches),
Each of these books is still available for purchase directly from Pacific Sounding Press–though each of these books is now in short supply.
In 2020, the Pacific Soundings Press returned to its original focus on postsecondary education — with the establishment of two sister publishing centers, The Professional Psychologist Press and the Atlantic Soundings Press, and with a renewed commitment to providing resources to members of the highly-challenged education community.
Featured Publication
A Handbook for Faculty Development
Authors: William Bergquist and Steven Phillips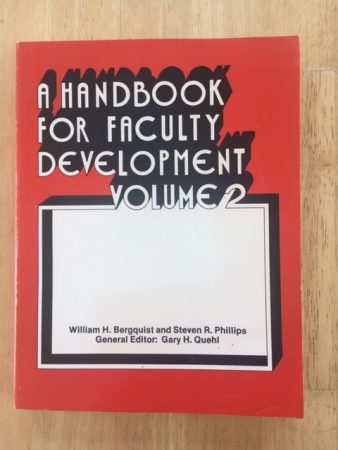 The three volumes of A Handbook for Faculty Development are now legendary. They played a key role in guiding the early perspective on and practices of faculty development in American higher education during the 1970. Their impact is widely documented While two of these three volumes have been out of print for many years, the one most often cited and used (Volume Two) is still available in limited quantity. As the co-publishers of this volume, Pacific Sounding Press is pleased to be able to offer it once again for sale.
The second volume contains many valuable resources that are still quite relevant and useful for those planning for providing faculty development services. In the first section of this volume, different models of faculty development are offered along with assumptions to be made about each model. This resource can still be engaged to elicit important discussions about the future directions for a faculty development initiative. The second chapter concerns faculty motivation and offers resources for assessing motivation, while the third chapter provides a guide for preparation of faculty portfolios.
The second section focuses on faculty evaluation and instructional improvement. The University of Massachusetts faculty evaluation process is highlighted and many valuable planning and design tools are provided. Both the evaluation and planning resources might be particularly valuable  right now given the push toward education at a distance (on-line and digital). Faculty in many colleges and universities must take some instructional risks and do some major redesign of their courses.
In Section Three attention turns to personal and organization development as key components of any comprehensive faculty development program. Chapters focus and provide abundant resources in four areas: leadership, interpersonal skills, life planning and values clarification. The fourth section focuses on program development and evaluation–including tools for evaluation of faculty development programs. This section contains a brief, but unique and insight-filled approach to faculty development that engages the wisdom of community development practitioners throughout the world.
What does all of this add up to? This handbook offers many resources, many ideas and a comprehensive perspective on the critical field of faculty development. Given the major changes facing 21st Century colleges and universities, this book can provide academic leaders and faculty developers with valuable guidance and assistance.
This volume of A Handbook for Faculty Development can be purchased for $18.50 by clicking on the Paypal button located at the top of this page. [To be activated after August 1, 2020]
____________________
Affiliate Publications
Members of the New Global PSP Community publish books outside the three presses of Ash Point Publishing. Here are ones that concern postsecondary education (the focus of Pacific Sounding Press):
Authors: William Bergquist and Kenneth Pawlak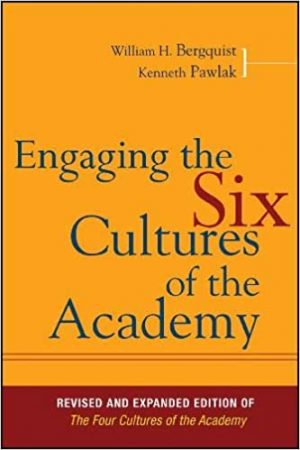 In The Four Cultures of the Academy, William H. Bergquist identified four different, yet interrelated, cultures found in North American higher education: collegial, managerial, developmental, and advocacy. In this new and expanded edition of that classic work, Bergquist and coauthor Kenneth Pawlak propose that there are additional external influences in our global culture that are pressing upon the academic institution, forcing it to alter the way it goes about its business. Two new cultures are now emerging in the academic institution as a result of these global, external forces: the virtual culture, prompted by the technological and social forces that have emerged over the past twenty years, and the tangible culture, which values its roots, community, and physical location and has only recently been evident as a separate culture partly in response to emergence of the virtual culture. These two cultures interact with the previous four, creating new dynamics.
Authors: Carole Blande and William Bergquist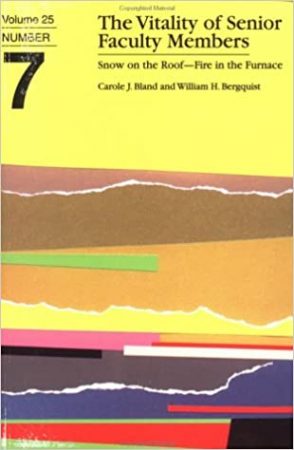 By the year 2000, 50 percent of full-time faculty were over 55, and 68 percent were over 50. Just when should universities and colleges in America make major shifts in their missions and their organizational structures, faculty members who were expected to implement these bold new visions would be out signing up for their senior citizen discount cards. Was it any cause for alarm? This book won a major award regarding research in higher education