Established in 2020 by the New Global Professional School of Psychology (PSP), this press is located in the small seaside village of Harpswell, Maine, and extends the outreach of professional psychology to the domains of public policy and societal reform.
In conjunction with The Edge of Knowledge,  PSP's research and development center, Atlantic Soundings Press specializes in publishing books related to the 21st Century emphasis in the discipline of psychology on what is called "positive psychology." Whereas 20th Century Psychology tended to focus on the weaknesses and pathologies of humankind, the 21st Century must look at the ways in which we, as human beings, find hope and freedom in the mist of health challenges associated with pandemic outbreaks, the rise in authoritarian rule and the ongoing polarization of societies in which the tribalism of race, culture, socio-economic level and gender makes it hard to engage in constructive dialogue.
We intend our publications to address the threats of our time by offering relevant opportunities provided by effective psychological perspectives and practices. While the books we offer might not always provide the complete answer, they offer us pathways to hope and action.
Coming Publication: Social Psychological Analysis
Freedom
Author: William Bergquist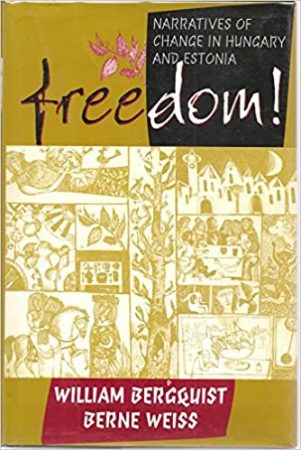 During the early 1990s, William Bergquist spent time in the country of Estonia. While working in this country, Bergquist had the opportunity to observe its break away from the Soviet Union and the establishment of its independence. At the same time, one of Bergquist's colleagues, Berne Weiss, was working in Hungary, while it to was establishing itself as an independent country. Together, Bergquist and Weiss wrote a book called Freedom while not only described the experiences of Estonians and Hungarians in re-establishing their independence, but also the psychological and social/political dynamics inherent in what Erich Froom calls the "escape from freedom."
Now, thirty years later, Bergquist is returning to this important social psychological analysis. What has occurred over these many years in not only Estonia, but also many other countries in the world, as citizens find and often run from the challenges of new-found freedom. In preparation for this new analysis, Bergquist has been leading a project  on Freedom through PSP's Edge of Knowledge Center. This project involves studies regarding freedom in many countries in our contemporary world.  The new book is now being written and Bergquist has shared some of the early chapters in the Library of Professional Psychology:
Authoritarianism and the Escape from Freedom
Authority, Identification and Nationalism: The Future of Freedom in Estonia