The final belief is to believe in a fiction, which you know to be a fiction, there being nothing else. The exquisite truth is to know that it is a fiction and that you believe in it willingly. — Wallace Stevens
What an extraordinary statement. It seems to shatter all of our firm convictions that there is truth in the world and that what we should believe is based in a clear sense of truth and reality. But is this really the case? Is Stevens telling us something that rings true, especially as we enter the third decade of the 20th Century. We would suggest that our own field, psychology is one of the "fictions" of which Stevens speaks. It is a fiction which can be of great value to society if used in a wise and skillful manner and if used with full knowledge that it is only one of many fictions that help inform the complex human condition.
We have linked to an  essay concerns the nature of fictions we should fully embrace—what William Perry (1998) calls "commitment in relativism." We ground this reflection on our current notions about knowledge and truth (what is often defined as the field of epistemology)–and specifically to the ways in which we construct reality in a social setting.
With this base in a social constructive perspective on psychology, we have engaged in a number of projects concerned with the cutting edge of professional psychology–in keeping with our commitment as a graduate school to offering education and training at this "cutting edge".
To further this commitment,  PSP has established a research and development center that provides a base for ongoing research in areas of particular interest to members of the PSP community: (1) positive psychology, (2) health psychology, (3) public policy and psychology, and (4) personal and organizational coaching and the professions.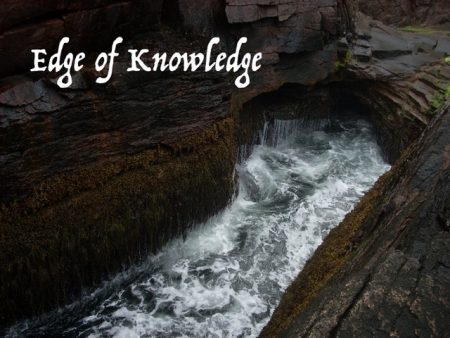 These research projects are being engaged by students, graduates and faculty at PSP. Some of the projects relate specifically to PSP courses or certification programs. The projects, in turn, lead to the production of social media materials, the publication of articles in the Library of Professional Psychology and Library of Professional Coaching. These projects also lead to the creation of new (or revised) courses and even new programs at The Professional School of Psychology—as well as new certification and continuing education programs. To be at the "cutting edge", PSP must have its own, evolving center that leads to the edge of knowledge.
__________
Phases of Edge of Knowledge Projects
Edge of Knowledge projects are at various phases in their planning, execution and completion. We have labeled each project with regard to one of four phases:
Phase One: Conceptualization
This project is currently being planned, with appropriate vision, purposes and resources being identified.
Phase Two: Enactment
This project is now underway, with 1 to 5 published essays/reports.
Phase Three: Generation
This project have now produced 6 or more essays, one or more books, and even compilation of the multiple documents aligned with this project. Projects at this phase will often be assigned their own website page (or multiple pages) with a link to the home page of this project being provided on this site.
Phase Four: Completion
This project has come to an end having realized its vision and fulfilled many of its identified purposes.
______________
Positive Psychology
At the present time, projects being offered under the Edge of Knowledge umbrella include three  that are aligned with the emerging perspective of positive psychology.These are the Appreciation Project, the Hope project and the Freedom project.
The Appreciation Project (Phase Three)
This project, in various forms, has been operating at the heart of The Professional School of Psychology for many years — since the books written by David Cooperrider and his colleagues were first published during the 1990s. The appreciative perspective, as we coin it, has served as the guiding principle for PSP programs focusing on Professional Coaching and Organizational Consulting.
This perspective has also served at the base for:
William Bergquist's Creating the Appreciative Organization (soon to be published in its second edition).
Appreciation is also a central theme in
Bergquist and Mura's coachbook
Bergquist and Mura's consultbook (currently only available as part of coach-based consulting certification program)
Following are articles produced by members of the PSP community from this appreciative perspective:
An Appreciative Approach to Coaching in Organizations
Eight Ways to Deepen Appreciation through Coach-Based Consulting Questions
Multiple Perspectives and Multiple Truths: Challenges and Opportunities for Professional Coaches
Positivity (Happiness) in the Workplace and Organizational Change
Practice Management and Coaching
The Hope Project (Phase Two)
The studies related to hope have been engaged at PSP, like those related to appreciation, have been going on for more than a decade — the studies ranging from exploration of utopian communities in California (and the powerful emotions and often violent acts associated with the betrayal of utopian ideals and images) to consideration of how hope impacts on the recovery from major life-threatening illnesses.
Currently, four essays on hope have been published in the Library of Professional Psychology. Two of these essays concern the role played by Hope in social systems:
Hope and California: Two Minority Perspectives
Hope: Overview and the Story of a People
Two other essays concern the role played by Hope in the facilitation of health:
Is Hope the New Antibiotic for Physical Illness
An additional essay provides us with several cautionary notes about Hope:
_________
The Freedom Project (Phase Two)
The Freedom Project began with the enrollment of Ants Parktahl (who had just escaped from the Soviet Union during its collapse in the early 1990s). After completing his Masters Degree at PSP, Ants returned to his home country of Estonia (newly liberated) to establish the first free-standing graduate school of psychology in the former Soviet states. Having invited several of the PSP faculty and administrators to Estonia (including President Bergquist), Ants provided PSP with the opportunity to witness the emergence of freedom — with all of its opportunities and challenges–in a newly-liberated countries.
From these experiences in Estonia, Bergquist wrote (with a colleagaue in Hungary) a published book called Freedom which engaged the notions about freedom articulated by Erich Froom (in Escape from Freedom and The Sane Society). Bergquist  revisited his original assessment of liberation in Estonia (and elsewhere in the world in more recent years) and has prepared a series based on this reassessment. Other essays on freedom have been written by PSP students from other countries (including China) and from diverse perspectives.
Following are the essays already published in the Library of Professional Psychology:
Two of the essays begin the reexamination of the observations about freedom offered by Bergquist during the earlyl 1990s
Free At Last: Challenges Facing Those Who Are Liberated
Freedom: From Collectivism to Individualist Structures and Realities
One of the essays about freedom comes from the observation of freedom in present-day China:
How to Turn Loneliness Into A Multi-Trillion Dollar Business
_________
Health Psychology
Two projects are associated with the focus at PSP on health psychology. These are the Pathways to Sleep project and the Four Tier Analysis project.
The Pathways to Sleep Inventory (PSI) is currently being continually updates.  Those taking PSI can review more than 70 pathways to more successful sleep. A series of essays are being prepared based on the four major clusters of sleep pathways: (1) healthy life habist, (2) preparation for sleep, (3) sleep environments and (4) sleep-inducing substances.
The Four Tiers Project (Phase Two)
Three essays have been published at this point based on a four-tier framework for provision of health-based coaching and health psychology services:
On the Cliff's Edge: Four Tiers of Health-Based Coaching
Health-Based Coaching: The Many Dimensions
The Four Tiers of Health Psychology and Parkinson's Disease
__________
Institute for Public Policy and Psychology
The Edge of Knowledge center is home to the new Institute for Public Policy and Psychology. This institute has been established to further investigations in the challenging field of political psychology. Focus is being placed on such topics as the assumptive worlds of psychopathology, the bias of research on social biases, and the creation of societal myths regarding noted political figures. This institute is also home to the Don Quixote Project which has to do with the narcissism and trauma to be found in contemporary organizations and other social systems.
The Psychopathology Project (Phase Three)
At the present time, the following essays have been published regarding the assumptive worlds of psychopathology:
Setting the Social Constructive Stage
The World of Spiritual Aberrations
The World of Inappropriate or Blocked Distribution of Bodily Fluids or Functions
The World of Distorted/Inaccurate Views of Reality
The World of Social Deviations
The Don Quixote Project (Phase Two)
Many years ago (during the late Middle Ages), the Spanish novelist, Miguel de Cervantes, was living in a world of transition. The era of romance and courtly love was coming to an end, with a new world of rationality and modernity on the horizon. Cervantes offered a profoundly moving portrait of this transition in Don Quixote de la Mancha. Don Quixote was an elderly man and minor aristocrat who was caught up in a world of illusion and fantasy-being unable to face an emerging world that seemed to be devoid of romance.
In many ways, we are now facing in the first decades of the 21st Century a world that is similarly in transition. As members of families, organizations and societies that are being threatened at a fundamental level, we are forced like Don Quixote to choose being reality and illusion. The choices we make between these two paths impacts not only on our own lives and careers, but also the lives and careers of the men and women with whom we work and interact. This project concerns the choices with which we are faced and the consequences inherent in these choices.
New Perspective on Functional and Dysfunctional Organizations and Their Leaders
__________
Institute for the Study of Coaching and the Professions
Finally, the Edge of Knowledge has established an institute that is both quite new and quite old. For many years, members of the Professional School of Psychology community have been at the forefront in publishing articles and books and conducting education and training programs that focus on professional coaching. In recent years, however, a new focus has emerged: how might various professions (such as those in health care, judicial systems and management) make more effective use of psychological concepts and strategies — and specifically those concepts and strategies associated with personal and organizational coaching. The Institute for the Stud of Coaching and the Professions (ISCAP) has been established to sustain both the tradition of stewardship of the coaching profession and the new attention to the interplay between this profession and many other professions that play a significant role in 21st Century societies.
The Development of Coaches Project
A series of reports have been prepared and are currently being prepared that convey and interpret results from two version of a questionnaire that was initially prepared by the Development of Coaches Research Collaborative in cooperation with the Collaborative Research Network of the Society for Psychotherapy Research. The initial survey was completed in 2009 by 153 coaches from throughout the world. The second version, distributed in 2015, was based on the first (with only minor editing changes) by the Library of Professional Coaching in cooperation with ITLCInsights. Fifty eight coaches provided responses to the second questionnaire — yielding a total of 211 responses to the two surveys.
While this study did not yield a large sample, given the many professional coaching practitioners now operating throughout the world, it is one of the first studies to provide data related to the ongoing practices and development of coaches. A first step has been taken, through this project, in moving toward a culture of evidence in the field of professional coaching.
Following are links to the reports already published in the Library of Professional Coaching:
Do Coaches Change and What Are Their Competencies?
Challenge, Autonomy and Support
Does Gender Make a Difference?
Does ICF Certification Make a Difference?
Are There Differences Between Personal and Organizational Coaches?
__________
What is at the Edge of Knowledge?
To provide a broader sense regarding the mission and vision of The Edge of Knowledge, we provide the following more general statement regarding this epistemological edge. In setting up this broader perspective, we offer a basic question: what is at the edge of knowledge? To answer this question, we need to mix together a bit of epistemological theory and the "wisdom" offered by an American administrator, Donald Rumsfeld. While Rumsfeld might be criticized for many other things, he does seem to be quite wise about the nature of knowledge (epistemology). He noted that there are four conditions with regard to knowledge: (1) there are some things we know and we know that we know it, (2) there are some things that we know and don't realize that we know it, (3) there are some things that we don't know and know that we don't know it, and (4) there are some things we don't know and don't know that we don't know it. We can diagram these four conditions by creating one dimension concerning the acquisition of specific content (direct knowledge), and a second dimension concerning our level of awareness regarding the status of our knowledge.
The Edge of Knowledge is embedded in the recognition that all knowledge resides near some edge – the last four letters of the word "knowlEDGE" even convey this important fact. At a more precise level, we suggest that the edge of knowledge is particularly prevalent in Sector III (I know that I don't know it) – which is the primary source of motivation to learn more (to become knowledgeable about something). Sector II is also an important element of the edge—it involves a process of appreciation (recognizing that we know more than we are initially aware). There is even a strong "edginess" to be found in Sector IV – as we become aware that there are areas in which we are not knowledgeable but should be.