The Professional School of Psychology (PSP) has offered doctoral programs for many years in both clinical and organizational psychology. Unlike many other graduate schools, PSP often brings together students from both programs in classes that are important for those doing clinical work and those providing consulting and leadership in organizational settings. The school is now taking another step forward in providing an integrated program that enables students seeking a career in either of these areas to learn from one another.
This new approach enables students to acquire a broad-based, integrative knowledge of psychology and gain specialized expertise in one of several emerging domains of professional psychology:
* health and neurological psychology;
* leadership development and executive coaching; and
* applied decisional-sciences and team-development.
The Integrative Approach is built on a unique six component curricular model:
1. Four core courses taken by all doctoral students.
2. Nine courses with several specialization foci — with each student taking courses aligned with his or her own professional and academic interests.
3. Three courses that provide advanced concepts and professional psychology strategies in the two general fields of clinical and organizational psychology.
4. Three courses taken by all doctoral students that address the nature of psychological inquiry and prepare students for their dissertation work.
5. A portfolio prepared by each student that provides documentation of the student's accomplishment (understanding, competence, and mastery) in six professional roles.
6. A doctoral dissertation that facilitates the student's mastery of a specific area of specialization and provides an opportunity to advance his/her career, as well as make a significant contribution to this area of specialization.
Modes of Instruction
The integrative doctoral program makes use of three instructional venues:
1. an in-person gathering each year;
2. a series of small group, digitally-mediated courses that make use of digital communication tools such as Zoom, Skype and Moodle; and
3. individual, one-on-one, tutorials involving the direct and flexible interaction between a faculty member and student.
The Yearly Gathering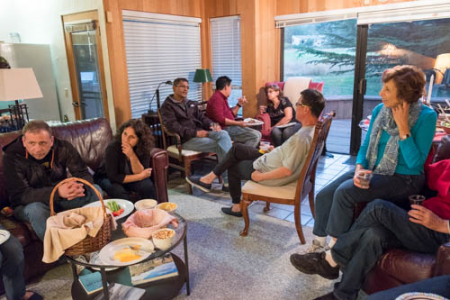 Many years ago, a colleague, Arthur Chickering, wrote an influential book about the difference between residential and commuter-based education. Students who went away for their college education and lived in a dormitory had a very different experience from those students who lived at home and attended college in the evenings or on weekends — often working full-time to pay for their education (or help support their own family). The residential collegiate programs offered an opportunity for students to not only attend class, but also sustain dorm-room and dining hall dialogue and discussions regarding what they had learned in the classroom. Many commuting students never had the opportunity to engage extensively in this peer-based learning (what is often called "plus-one" education–learning from someone who recently was exposed to the same ideas).
While the programs at PSP have always been oriented toward mature and accomplished adults who are working full-time, there is great value in offering an occasional opportunity for residential education–where plus-one education can take place. In order to create this type of rich experience, PSP hosts a five day gathering each year that brings together all the students enrolled in the integrative professional psychology program. These gatherings are not held, typically, at the school but instead are offered at a beautiful and culturally-rich retreat location somewhere in North America — such as the Southwest cultural center in Santa Fe, New Mexico; the Atlantic coast setting of Harpswell Maine; and the Pacific coast community of Sea Ranch, California. Two courses will be offered during each five-day gathering. Advanced students attending the gathering will also present and receive feedback regarding their dissertation topic from other students and assembled faculty.
Digitally-Mediated Instruction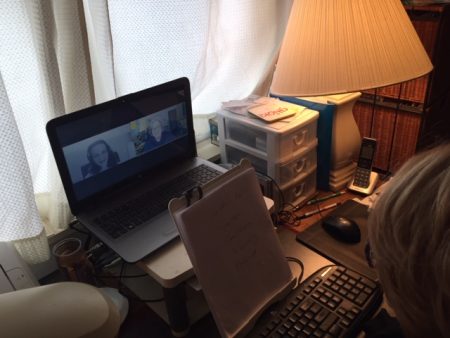 Some of the course work is conducted via digitally-mediated video conference calls (using Skype and Zoom), supplemented by written communication engaged through the Moodle platform of PSP. In some instances, the course work builds on work already done at the yearly gathering or through in-person tutorial sessions. In other instances, an entire course is offered via digitally-mediated instruction, often supplemented by instructional videos, such as those offered by The Teaching Company, Coursera, or the American Psychological Association. These are typically courses taken by a small number of students as part of their specialized education and training. Given that PSP students come from many different countries around the world, the digitally-mediated instruction is not only practical (a way to reduce travel costs and time spent on airplanes), but also conducive to rich ongoing cross-cultural exchanges of ideas and practices (students meeting frequently with colleagues from diverse backgrounds).
Individual Tutorials
The statement has been made and often repeated, that the best education possible was for a wise and compassionate educator (often identified as Johns Hopkins) sitting on one end of a log with a fortunate student sitting at the other end. PSP has engaged this form of education for many years through its distinctive one-on-one tutorial program. More than a dozen doctoral students have worked one-on-one with an expert in the field on which the student wishes to focus (ranging across such diverse areas as social-critical theory, leadership, organizational culture, clinical services to the under-served, or work with abused children). Sometimes, the tutor and student meet in person at a location agreeable to both, while other sessions are conducted through the use of digital media (such as Skype or Zoom). The Integrative Doctoral program employs this one-on-one tutorial model for many of the courses being offered, thus enabling a student to focus on a specific area of specialization with an expert in the field.
The Curriculum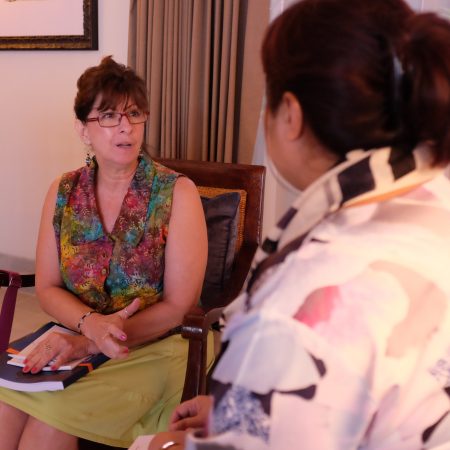 Most doctoral students at PSP complete their course work in three years, taking seven or eight courses each year. Two of the courses are taken at the yearly gathering, with the other courses often being taken by means of digitally-mediated instruction or individual tutorial. In some instances, for those students living in Northern California, a course might be offered at the PSP office, either on an individual tutorial basis or as a small group course.
PSP is a founding member of the International Education Alliance, collaborating with several other graduate schools in North America. As a result of this alliance, one or more courses per year will be offered in conjunction with another graduate school–thus expanding the options available to PSP students and extending the opportunity to work with students from other schools (offering alternative perspectives and experiences).
Following is a brief description of each of the six components in our Integrative Psychology program. A sample student progression is also available.
Core Courses
The four core courses are: (1) Personality Theory, (2) Cognitive Bases of Behavior, (3) Social Basis of Behavior, and (4) Behavioral Neurobiology. These four courses are taken in person at the yearly gathering attended by each student enrolled in the program.
Reflective Practice Courses
Nine courses provide focus for the specific professional and academic interests of each student wishing an organizational or clinical psychology emphasis. The organizational psychology courses cover three dimensions of psychological service (theory, assessment and intervention) at three levels of service (the individual, the group/family, and the organization/society/culture). Six course provide focus for those students wishing a clinical psychology emphasis: (1) three courses concerning advanced psychotherapy practices and (2) three courses concerning psychodiagnostic assessment.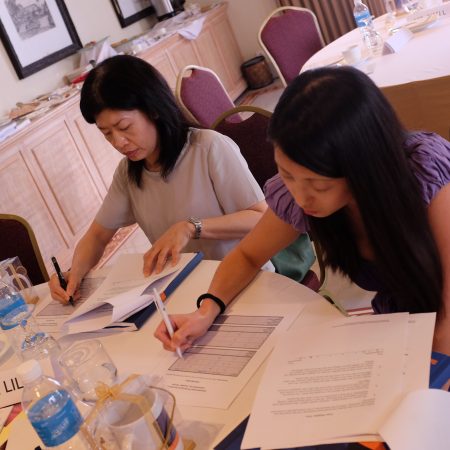 The courses in both clinical and organizational psychology are further individualized to provide education and training particularly in five areas of professional psychology: (1) dynamic group therapy, (2) health and neurological psychology, (3) leadership development and coach-based consulting, (4) family systems, permanence and adoption and (5) applied decisional sciences and team building. In many instances, these courses will be supported through PSPs affiliation with one or more research and training centers: (1) Santa Fe Center for Advanced Organizational Studies (supporting the leadership and coaching courses), (2) Ash Point Center (supporting the family permanence and adoption courses), (3) Institute for Applied Decisional Sciences (supporting the applied decisional sciences and team building courses), and (4) Health and Neuro Psychology Study Center (supporting the health and neurological psychology courses) (see brief descriptions of these centers in Appendix B). These courses (offered in conjunction with one of the centers) will often yield not only doctoral course credit, but also a certification that enables the student to provide specific services, make use of authorized training/education documents, and/or secure a specific license.
Nature of Psychological Inquiry
Each student completes three courses that concern the history of psychology and social context within which specific psychological theories and practices were founded and still operate. One of these courses often focuses on the life and work of a specific psychologist, while another focuses on ways in which psychological research and scholarship is being conducted. Students are exposed to and make use of quantitative statistical tools, innovative qualitative tools of analysis, and systems-oriented tools that blend quantitative and qualitative sources of information.
Students also are introduced to several data bases that can be readily accessed by students at little or no cost. One of the Nature of Psychological Inquiry courses is usually offered during one of the yearly gatherings, while the other two courses are offered in the digitally-mediated format or in individual tutorial sessions. Typically, by the end of the third course, a student will have prepared a preliminary dissertation proposal.
Advanced Clinical and Organizational Psychology Courses
Each student will be taking three courses that offer advanced education and training in clinical or organizational psychology. For those students who are preparing for a clinically-oriented career, these three courses are: (1) advanced psychopathology, (2) advanced psychopharmacology and (3) advanced neuropsychological assessment. The three courses taken by those preparing for an organizationally-oriented career are: (1) decision-theory, (2) attitude theory and (3) adult learning. These courses are typically taken by a small number of students via digitally-mediated instruction or as an individual tutorial.
Portfolio
Before being advanced to doctoral candidacy (eligible to begin formal dissertation work) a student at PSP must not only complete all courses, but also compile a portfolio that documents competencies in six areas: (1) researcher, (2) scholar, (3) interventionist, (4) advocate, (5) teacher and (6) leader. Documentation for two of these roles must demonstrate the student's basic understanding of how they might engage this role in their own professional life. Typically, this documentation requires only the completion of certain courses in the doctoral program. The student selects two of the other roles that are to be documented at a higher level. The student must demonstrate competency in these two roles by providing evidence of active engagement in each role.
Finally, the student focuses on the two roles where mastery can be demonstrated. The student is required to provide documentation indicating that this role is being enacted in a distinctive manner and that the student is making a significant contribution to the profession of psychology through their work in this area. In many instances, documentation of one of these two mastery roles is deferred until the student completes their dissertation–this document itself providing evidence of mastery.
Dissertation
Upon being advanced to candidacy, the doctoral student assembles a three person dissertation committee, prepares a proposal (approved by all members of the committee), completes an approved human subjects review process, and produces a dissertation that meets with the full approval of the dissertation committee. It is anticipated that some of the dissertations being prepared will be qualitative in nature, while others will be quantitative. Dissertations can also be based on scholarly synthesis of existing work, built around a new professional psychology practice, or prepared as the draft of a book.
Students who are working on their dissertations will be provided with the opportunity not only to work with their dissertation committee, but also present and discuss their work (at one or more stages in its development) at the yearly gathering. They will be able to meet at the gathering with other students working on their dissertations, as well as present their work to those students who are at earlier stages in their doctoral work. While dissertation-level students are not required to come to the gathering, they are encouraged to do so, not only to derive benefit from interactions with other students (and faculty), but also to serve as an inspiration to (and do some mentoring with) the "younger" students.
Four Affiliated Centers
The Santa Fe Center for Advanced Organizational Studies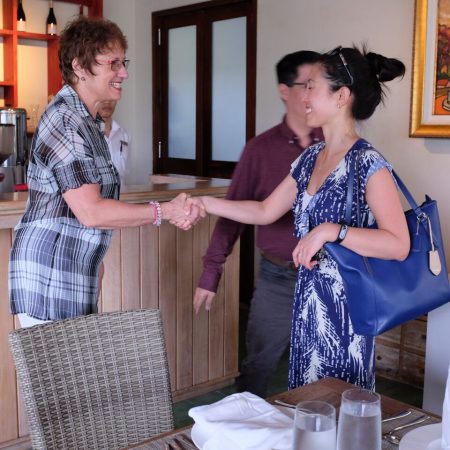 The Santa Fe Center for Advanced Organizational Studies is dedicated to the ongoing development of a comprehensive and inter-discipline based approach to leadership development and professional coaching. Through its engagement in both research and training, and through its collaborative work with other leadership development and professional coaching organizations, the Santa Fe Center will further the advancement of leadership and the coaching profession and serve as a steward in the establishment of theory and evidence-based leadership development and professional coaching practices.
The Ash Point Center
The Ash Point Center is founded to advance our knowledge of the many dimensions of human development throughout the lifespan of individuals and families who are facing the unique challenges found in many different cultural and socio-economic settings. The Ash Point Center engages researchers, scholars, teachers and advocates operating in the domain of individual development and personality, and in the domain of family development and permanence. Knowledge is to be advanced by those participating in the Ash Point Center through critical reflections on current and proposed human service activities.
The Institute for Applied Decisional Sciences
This institute is dedicated to the fuller understanding of the complex processes involved in human decision-making, integrating findings from twelve disciplines or sub-disciplines: (1) cognitive psychology, (2) social psychology, (3) personality theory, (4) neurobiology, (5) behavioral economics, (6) psycho-dynamic psychology, (7) complexity theory, (8) chaos theory, (9) postmodern management theory, (10) contemporary leadership theory, (11) philosophy and (12) political psychology/governance. Taken together, these inter-disciplinary initiatives constitute what might best be called "the decisional sciences." There is not yet a unified theory or model that brings these sciences together. The Institute has been established to bring about this integration and to facilitate the real-world applicability of decisional sciences. Decision-making at all levels is addressed by the Institute: (1) personal, (2) interpersonal, (3) group/team, (4) organizational, (5) government/judicial system/public policy, (6) economic/mass media and (7) societal/cultural.