The 2020 Virtual Gathering
The 2020 Gathering of the Global PSP Community was held on Saturday, September 12. It was the fourth Gathering of the Global PSP Community—and the first one to be virtual (responding to the health challenges of the COVID-19 Virus). Two 1 ½ hour sessions took place on Saturday morning (USA time) and two 1 ½ hour sessions were held on Saturday evening (USA time) (Sunday morning in Asia).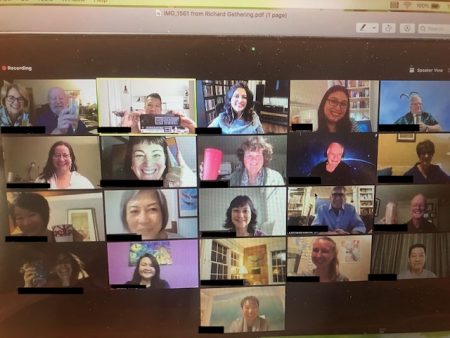 One of the morning and one of the evening sessions focused on clinical topics, with the other two sessions focusing on organizational psychology. These four sessions were book-ended by a brief introductory session and a closing celebration. Here are the descriptions of these events that were posted prior to the Gathering.
Clinical Psychology
Relational Psychotherapy: Enriching the Psychodynamic Repertoire
Presenter: Ronit Bisson
Event Description: Relational psychotherapy is often referred to as a "two-person psychology" which acknowledges that there are two full subjectivities in the therapy room. This is in distinction to classical psychoanalysis which saw itself as a "one-person psychology".  Rather than an emphasis on the instinctual drives highlighted by traditional theory, interpersonal relationships are seen as the basis of human development. During this session, we will be looking at some of the basic ideas of the relational psychotherapy and discuss it by a movie film.
Clinical Psychology
Psychotherapy and the COVID-19 Virus: A Round-Table Discussion
Presenter: Karin Bustamante
Event Description: COVID 19 has impacted communities across the globe in ways we are only beginning to understand and continues to reverberate.  The goal of this roundtable is to expand our understanding of how different communities are addressing client needs and find support for the ongoing work ahead.  Clinicians providing mental health support to their local communities are invited to gather in a virtual round table discussion.  We will share how client needs have changed, how service delivery has been impacted and describe evolving challenges in meeting client needs that lay ahead.  The roundtable will also focus on self-care and clinician burn-out.
Posted by William Bergquist
On May 21, 2020
0 Comment