The Professional School of Psychology has a long tradition of offering graduate psychology programs to groups of students who take most, if not all, of their courses together throughout the duration of the program. PSP has established these cohort groups in the United States, in Western Canada and most recently in Israel. We believe that andragogical – and even transformational learning — are more likely to occur when students have the support of not only their instructor but also their fellow psychology students. A cohort group provides the additional support — and continuity — that makes the challenge of returning to school as a busy adult a bit easier to address. Additional support and continuity is provided when one or two faculty members serve as senior tutors (something like "home-room" teachers) to each cohort.
In some instances, a cohort group is formed around a specific curricular theme or shared concern on the part of all cohort members and senior tutors. This was certainly the case when a six-student cohort group was formed in Western Canada that focused on leadership challenges in Canadian postsecondary education. All of the students were senior educators in Canadian colleges and university-colleges. The faculty members were themselves senior educators with background in the application of organizational psychological principles to educational innovation and leadership. One of the graduates of this cohort group, Jan Lindsay became president of a University-College in British Columbia, while another graduate, Ken Pawlak, co-authored a book (Engaging the Six Cultures of the Academy) with President William Bergquist, published by Jossey-Bass in 2009.
In other instances, a cohort group is formed around a unique mode of instructional delivery or curricular planning. This was the case when a group of students in Northern California formed the Pacific Learning Community. Each of these students was interested in the dynamics of teams and organizations, and believed that an ongoing investigation of their own team dynamics as a cohort group would prove to be of value. Over a period of four years, this cohort group engaged in many projects that not only contributed to their own education, but also benefited the school — including preparation of a strategic plan for PSP. Graduates of this program have subsequently formed or redirected the focus of their own organizational consulting firms.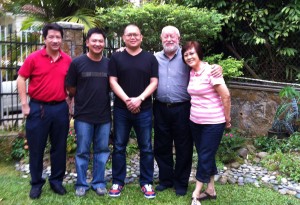 At the present time, an extensive cohort group program has been formed in Israel, with both a specific focus (Psychodynamic Group Psychotherapy) and unique delivery mode (combination of in-person meetings, workshops, Skype conference calls and regular Skype calls between each student and the senior tutor). Led by Senior Tutor Dr. Haim Weinberg, this program now consists of two eight-student cohort groups, with a third cohort group soon to start. Instruction is in Hebrew and English. One of the essays prepared by a student in the first cohort group, Daniel Weishut, is featured in The PSP Community.